Hundreds take part in Swindon and Wiltshire Pride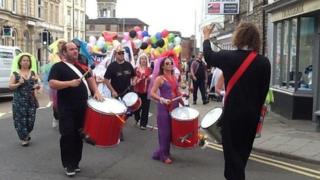 Hundreds of people are taking part in the Swindon and Wiltshire's Pride celebrations.
The event, being held in Old Town Park, started with a colourful parade around the Old Town area - returning to the park for music and entertainment.
As well as the festivities, experts are on hand to offer relationship advice and sexual health checks.
Swindon Pride started in 2008 and quickly expanded to become the Swindon and Wiltshire Pride event.
The event, now in its sixth year, aims to promote equality and diversity within the community and works to end discrimination to the lesbian, gay, bisexual and transgender populations.