Banned substance in 'legal high' bought in BBC investigation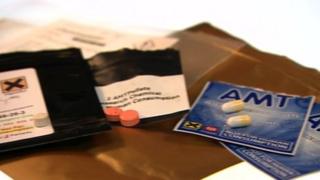 A "legal high" purchased on the internet as part of a BBC investigation has been found to contain traces of the banned substance APB.
South Swindon MP Robert Buckland said it showed the risk people were taking by using drugs bought legally online.
He said people who did so were putting themselves into a "deadly abyss".
The investigation was prompted by the death last month of 23-year-old Swindon man Christopher Scott, who was found to have taken "legal high" AMT.
The BBC bought four samples of AMT from different vendors and sent them for laboratory analysis.
'Cardiovascular stimulant'
Three were as advertised, but one was found to be mixed with APB, known as Benzo Fury, which is currently banned for 12 months by the government.
All the products bought were labelled as not for human consumption, harmful if swallowed, and for laboratory or research purposes.
Mr Buckland said the days had gone when people could predict the impact of taking drugs.
"We have a multiplicity of new drugs out there which can cause really serious harm or death," he said.
"We've got to get that message across, particularly to young people who are vulnerable, who are susceptible to peer pressure or think it's the clever thing to do.
"Legal does not mean safe... legal can mean very, very dangerous.
"Lessons, such as the dreadful case we've had in Swindon, must be learned that what they are doing is stepping into the unknown," the Conservative MP added.
Mr Scott, from Charfield Close, died after taking a small green pill with a dollar sign on it. Tests showed it was AMT.
Dr Tim Williams, a consultant addiction psychiatrist from the University of Bristol, said AMT, as a stimulant to the cardiovascular (CV) system, causes an increase in heart rate and blood pressure.
"APB is also a stimulant and would have an additive effect on the CV system so could really put the heart under strain if the two are taken together," he said.
"You have no idea of what you're taking - even if you went to an A&E department it would be very difficult for you to work out in a short time the substances you've taken together."