Thames Water criticised over leaking pipes in Wiltshire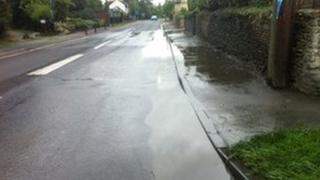 Thames Water has been criticised for delays in fixing leaking pipes in Wiltshire.
Water from various leaks has sinkholes and is beginning to break up road surface in Purton and Cricklade, residents claim.
Liz Barker from Cricklade said: "The driveway is ruined, the road is collapsing. It's an utter disgrace."
Thames Water apologised and has said its engineers were trying to locate the source of the leak.
Glen Wardle's home in Purton, four miles from Cricklade, was flooded due to a burst pipe which he believes started when contractors for Thames Water tried to clear a nearby drain about a month ago.
Mr Wardle said: "This water which was foul, black and disgusting kept going on and on for many many hours.
"When they finished pumping the water finally subsided, what was left was a sinkhole.
"You could see a great depression where you could see an awful lot of subsoil had been washed out."
Craig Rance from Thames Water said: "There was a leak at a nearby water booster station which is a pumping station which pushes water uphill so we did some repairs to that.
"There was also a leaking pipe a few roads away, so they cut out the leaking section and replaced that - it happened on Sunday but that doesn't appear to have fixed the problem."
He added that engineers would investigate on Tuesday.