Salisbury bus drivers to switch off engines to save cash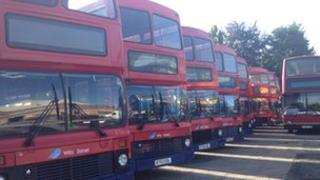 Bus drivers in Salisbury are being asked to switch off their engines at some bus stops to reduce the impact of rising fuel costs.
Bus company Salisbury Reds has launched a Switch Off campaign which aims to help the environment and save money.
Operations manager Andrew Sherrington said they had an "environmental responsibility" but also did not want to "pass on costs to customers".
He said the company's fuel bill "runs into millions".
Mr Sherrington said the company used about 1.6m litres of fuel a year.
He said: "A typical bus, for example a double decker, will take about 300 litres of fuel a day, so that's a lot of fuel.
"[The fuel bill] runs into millions. We don't want to be passing these costs on to customers.
"As fuel bills rise, we need to make sure that we reduce the impact on our customers by introducing such initiatives and reducing the fuel bill."
He said the engines would be switched off at locations where the buses would traditionally be sitting for anything longer than two minutes, such as terminus points and driver change-over points.