Community bid 'could save' Wiltshire canal-side pub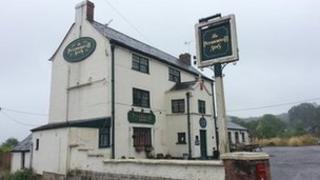 A canal-side pub in Wiltshire earmarked for sale and redevelopment could be saved after a community group expressed an interest in investing in it.
The Wilts and Berks Canal Trust wants to reopen the Peterborough Arms at Dauntsey Lock which closed in April.
The group has succeeded in getting it added to Wiltshire Council's list of "assets of community value", giving community groups the option to step in.
It now has six months to raise more than £330,000 to buy the property.
Wiltshire brewery Wadworth shut the pub saying it was not a viable business and applied for permission to turn it into a house.
'Visitor attraction'
The Wilts and Berks Canal Trust wants to buy it and run it as a canal-side pub and visitor centre.
The trust's Chris Coyle said: "We think it can be an asset to the community in a number of ways.
"We want to make it a visitor attraction with boat trips, and we want to make it an attractive place for people to come, and an attractive centre for the village."
Wiltshire Council deputy leader John Thomson said the authority was "supportive" of the scheme and would help with funding and advice.
However, even if the trust does manage to raise the money to buy the pub, the brewery is under no legal obligation to sell it.