Swindon A419 solar panels to act as noise barriers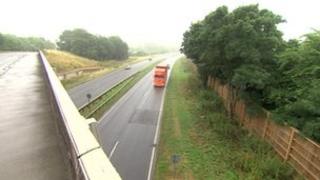 A busy road in Wiltshire could be soundproofed using solar panels which double-up as noise barriers.
Swindon Borough Council has agreed to set up a working group to explore the idea of installing the panels along the A419 dual carriageway near Swindon.
It is hoped electricity generated will pay for the scheme, which may be the first of its kind in the UK.
Standard noise barriers are in place on parts of the A419, with solar panels expected to cost £1m per mile.
Business hopes
The scheme has been supported by transport ministers and the Highways Agency.
This technology is already in use in Germany, Austria and Italy.
Dale Heenan, cabinet member for sustainability, said: "The solar sound barrier will be comprised of solar panels which will generate electricity which we can then sell to local businesses - we have a number of those in Swindon ranging from Honda, BMW, and lots of other large businesses.
"If we can get them on board, we can then raise the money necessary to build and pay for the maintenance of the sound barrier itself."
The aim is for the project to be completed within two years, the council has said.
A progress report from the working party is set to be heard by the Conservative-run council in September.