Westbury fly swarm being blamed on recycling plant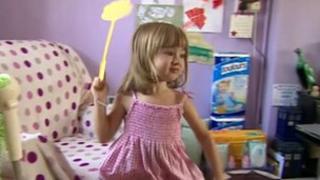 Swarms of flies blighting homes in a Wiltshire town are being blamed on a new recycling plant.
The firm Hills, which operates the plant at Northacre in Westbury, acknowledged it may be contributing to the problem.
Thousands of the insects have been affecting homes and businesses during the hot weather.
The company is meeting community representatives later to decide on action to limit the flies.
'Baby's head'
Zoe Stevens, who lives at Oldfield Park, said: "You can't sit still or stand still because they land on you.
"My children have got them on them. The baby has got them all over his head, he can't get them off himself.
"We've been killing them with sprays and the sticky stuff - we know we get them when it's hot but this is more than usual.
"It's just a nightmare at the moment - I don't like it."
A spokesman for Hills said the company was in contact with the Environment Agency after receiving complaints from residents.
He said the firm had not been identified as the sole culprit.
He acknowledged the site "may be a contributing factor along with the extremely hot weather conditions" and it was taking action to try to lessen the risk of flies.
Wiltshire Council said it had received a "number of calls about excessive flies" and they were investigating possible sources of the problem.
"We advise people to keep food covered when preparing meals and wrap it up before disposing of it in the bin," the authority added.
"Fly papers and sprays are an effective way to deal with flies in the house."