Chippenham woman trampled to death by cows 'an accident'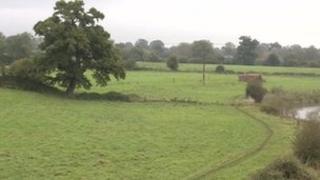 The death of a woman trampled by cows while walking her dog in Wiltshire was accidental, an inquest has ruled.
Sandra Wiltshire, 68, from Chippenham, died from multiple blunt traumatic injuries sustained in the field, a post mortem examination showed.
Her Labrador Bruce was also trampled in the attack, near the River Avon on 11 October last year, and was later put down by a vet.
Wiltshire coroner David Ridley recorded a verdict of accidental death.
Her husband, taxi driver George Wiltshire, wrote a statement for the hearing which said she walked Bruce twice a day, every day.
"When she walked Bruce, if they were in the fields he would always be off the lead and would be miles behind Sandra. Bruce didn't cause any trouble," he said.
'Attacked by cows'
The inquest heard Mrs Wiltshire had been discovered lying injured on land owned by Rawlings Farm and was pronounced dead at the scene.
Sylvia Crawley, who had been walking around the fields with her husband and dog, saw Mrs Wiltshire with her Labrador at about 08:30 BST, lying on the floor and caked in mud.
"I shouted out to the person saying 'are you alright?'," Mrs Crawley told the court.
"The female voice spoke back saying 'no, not really, I have been attacked by cows. I have been here since 07:30'."
Mrs Crawley said she ran to get help and found a nearby walker, who called 999.
Farmer Charles Mifflin said there were 16 cows, 14 calves and one bull in the field and described the Simmental cattle as a "very quiet" breed.
"The main problem I think was the dog. The presence of the dog would have upset them," he added.
'Waved and shouted'
The jury was told that the field had no public right of way and was private land, but it was regularly used by walkers.
Mr Mifflin, who has 200 cattle, said: "These are working fields, it is land that is farmed. People don't appreciate that it is a workplace."
He has since put up signs warning walkers about the presence of cows and calves on the land after being advised to do so by the Health and Safety Executive.
Another local resident Michael Franklin, who lived near Mrs Wiltshire, said in a statement that the fields were well used even though there were no official footpaths.
He said that he had twice been charged by the cows when walking his dog with the latest occasion happening a year ago.
"I waved and shouted and they stopped in their tracks," he said.