Avonmead care home camera captures poor care of resident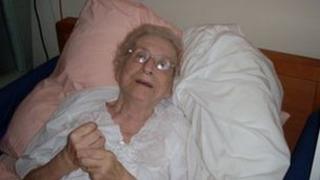 A daughter who secretly filmed her mother's poor care at a nursing home is calling for better care for the elderly.
Margaret Heslop's family were so concerned about her care at Avonmead in Wiltshire that they put the camera in her room last year.
Her daughter, Mandy Mugford, handed the footage to the police and BBC Panorama.
The home - run by the UK's largest care home provider, Four Seasons Health Care - has disciplined 11 members of staff.
It said it has apologised to the family and inspectors say the home now meets all necessary standards.
Mrs Heslop, who was in her 80s and served in the land girls during the war, was cared for at Avonmead in Devizes from October 2011 to May 2012.
"We noticed over the weeks that we were having to go and complain or bring something to their attention every time we went in there," Mrs Mugford, 52, said.
'Level of pain'
The family put in a secret camera which showed that while the care Mrs Heslop received was sometimes kind, there were other cases which fell below what they expected.
She was once left for hours in wet clothing, her call bell was pulled out of its socket at least once and there was a lack of adequate support for a painful leg when she was being moved.
Mrs Mugford spoke to Panorama of her shock when she viewed the footage, involving two carers.
"She's somebody's mum, she's somebody's nan, and they don't see that," she said.
Independent nurse consultant, Lynne Phair, added: "I'm just horrified that everyone was just taking for granted that this horrendous level of pain was just one of those things."
Neither of the carers in the footage wanted to comment.
Four Seasons acknowledged poor care and said it had sacked five people, disciplined six others and repeatedly and sincerely apologised to the family.
It said there was no indication of the cause or extent of the wetness of Mrs Heslop's nightie in the footage, and that they were appalled by the call bell being unplugged.
Overall, the company denies not doing enough for Mrs Heslop's painful leg during her stay; that other healthcare professionals were consulted and her care plan provided staff with instruction on how best to position her limbs.
"Ultimately we are…dependent on individual members of the front line staff…nearly all of whom do a demanding job very well," the company said.
"(Mrs Heslop's) crying out was becoming increasingly frequent but her essential care needs had to be provided."
The company insist Mrs Heslop's cries could have been due to "apprehension or distress associated with her underlying mental health".
Improve care
Mrs Mugford now wants care to be everyone's business.
"Don't just visit your mum, in your mind's eye, visit everybody else too just keep an eye on them because somebody needs to," she said.
Avonmead now meets all necessary standards, according to CQC inspectors.
But a third of homes in England do not and the regulator - the Care Quality Commission (CQC) - has promised to get tough with them.
CQC chief executive David Behan said: "We are going to be absolutely clear about what is acceptable and what isn't acceptable.
"There's too much poor care in this country and we need to ensure that it's improving or providers cease to exist."
Panorama - Elderly Care: Condition Critical is on BBC One at 20:30 BST on Monday