Michael Chudley pleads guilty to firearm offences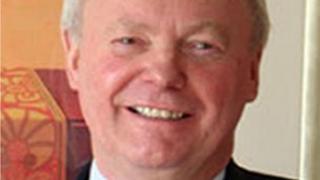 A man accused of shooting dead a solicitor in Wiltshire has pleaded guilty to firearms offences.
Michael Chudley, 63, is charged with killing Jim Ward last July with a sawn-off shotgun at his offices in Devizes. Mr Ward died almost three weeks later.
Mr Chudley, of no fixed address, denies murder but has admitted manslaughter on grounds of diminished responsibility.
During questioning at Salisbury Crown Court, Mr Chudley said he has no memory of the incident.
When asked if he had intended to kill Mr Ward, he told the court: "I have no idea, I was very ill at the time."
During questioning by his defence, Mr Chudley said: "I'm ashamed of what I did but I have no recollection of what I did."
Earlier this week, the jury was told both the defence and prosecution agree Mr Chudley was suffering from a paranoid personality disorder at the time of the shooting.
Solicitor Mr Ward, who was 58 and from Westbury in Wiltshire, was a father of three who worked at MGW Law in Devizes.
The trial continues.