RAF Lyneham training college plans submitted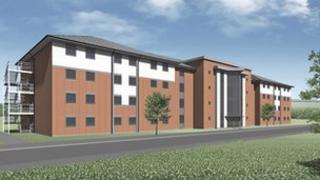 Plans for a £230m military training centre at the former RAF Lyneham airbase in Wiltshire have been submitted to the council.
The Defence College of Technical Training (DCTT) will offer training to all three services of the armed forces and create about 1,700 jobs.
RAF Lyneham closed last December as part of a strategic review of military bases by the Ministry of Defence (MoD).
The site would also house an army museum.
The college will include workshops, classrooms and labs, sports and welfare facilities and new and refurbished accommodation, the MoD said.
It will provide training in electronic and mechanical engineering, aeronautical engineering, and communications and information systems.
Training in maintaining machinery and keeping military equipment running, which currently takes place at Bordon, in Hampshire, and Arborfield, in Berkshire, will be transferred to the site.
Under the plans a public museum dedicated to the army's Royal Electrical and Mechanical Engineers (REME) will also be relocated to the site from its current home at Aborfield Garrison near Reading.
A planning decision is not expected until September at the earliest, a spokesperson for Wiltshire Council said.
Work on the scheme is scheduled to start in early 2014, subject to planning permission, with the site open by the end of 2015.