Swindon campaigners fear Victorian building will need demolition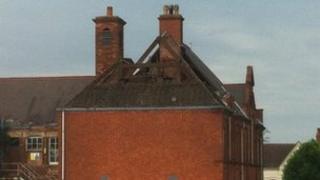 Campaigners trying to save a derelict Victorian building in Swindon fear it is becoming so unsafe it will have to be demolished.
Swindon Civic Voice group said the former Swindon Technical College building urgently needed work.
The majority of buildings have been demolished to make way for the £50m Regent Circus development, but this oldest part will be redeveloped.
Site owner Ashfield Land said they had a vested interest to maintain it.
Director James Digby, said it would not make commercial sense to leave such a building derelict when it will be next door to a brand new development, but immediate repairs are not planned.
However, he said it would be refurbished in phase two of the development project, which is expected to be complete towards the end of next year.
'Secure this building'
However, Martha Parry, chair of Swindon Civic Voice, said if Ashfield Land has got the money to build a multi-million pound leisure and business complex, then it has got the money to halt further deterioration of the Victorian building.
"Windows are open, windows are broken, there will be pigeons in there and other vermin, and we really need to make sure that the council acts to make the owners secure this building so that it doesn't deteriorate any further," she said.
Her main concern is that the building, which is not listed, will be left to rot to the point where demolishing it is the only option.
Work is currently under way to bring down a rear extension portion of the building, which is in line with planning permission.
Swindon Borough Council told the BBC the extension was not part of the original building and contractors were taking tiles off the roof as part of the work.
The site has been derelict since 2006 but the Regent Circus development will have a six-screen cinema, supermarket and eight restaurants open on the site by autumn next year.