Salisbury market place revamp affects tourist trade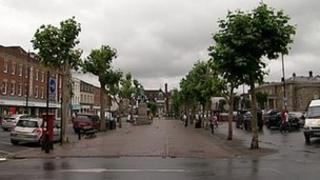 Traders in Salisbury are questioning why the busiest part of Market Place in Salisbury is being revamped during the peak tourism season.
The first phase of the works began in March by Guildhall and will now move to Ox Row where local firms are based.
Restaurant owner, Steve Dewaulder, said: "They don't seem to comprehend what impact this will have on our business or on our jobs."
The council has said it has consulted traders over the project timetable.
Mr Dewauler added that since the works started in March he had lost about £1,000 a week and could lose as much as £30,000 over July and August.
Dusty summer
The revamp is being carried out over three phases - by the Guildhall, followed by the north side and then the south side, near Ox Row.
Traders have called for the south side to be done last, towards the end of summer when it will least affect them.
There are about nine businesses in the Ox Row area and four of them are independently-run.
Danny Bozic, who also owns an independent restaurant on Market Place, said: "I have to be honest - lunch is completely affected, it has dropped, but the evening trade is fine.
"It is the worst time of year - our restaurant was burned down two years ago and we have been open for a year and have been building up trade but now we have another six months of this."
Mr Bozic added that although he understood why the work was needed, since March his business had been losing at least £1,000 a week.
Mr Dewaulder added that all the independents have complained to the council about phasing of the project.
Traders' concerns have also been shared by Liberal Democrat councillor, Helena McKeown, who represents Salisbury, St Edmunds and Milford.
Ms McKeown said: "I can hardly believe the timing - I braved sitting here with my own family for lunch on Friday during half-term and it was full of dust.
"This is prime season for tourism in Salisbury - there are lovely but fragile independent businesses that rely on these good days of weather for the whole of the year and the marketplace is a fiasco."
Apart from repaving the area with Yorkstone there will also be improved drainage, new lighting, a disabled toilet and electrical power points for the twice weekly market.
Wiltshire Council has said the area will make the city more attractive for visitors, traders and shoppers.
Parvis Khansari, service director for strategic services at the council said: "We've had very few complaints from the local businesses - the majority of businesses are in support of the scheme and they want us to carry on and deliver."
He added the ground works had to be done during the drier, summer months.
"We've consulted widely and locally and this seems the best time to do the works," added Mr Khansari.