South Wiltshire fire stations to hold food bank parcels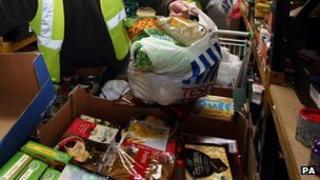 Three fire stations in Wiltshire are to hold emergency food bank parcels in an attempt to make them more accessible.
The partnership with the Trussell Trust was set up after Dave Dunford from the brigade heard how a woman with severe arthritis walked 16 miles to get help.
He said she could not afford the bus fare or petrol to collect a food box.
"With fire stations in the community we are ideally placed to help. It's my hope food bank clients will find it much easier to access help," he added.
The boxes, which are being held at Amesbury, Tisbury and Wilton fire stations, hold enough food for a family for three days.
Louise Wratten, who manages the trust in Salisbury, said the partnership would help it reach more people in need.
"Joining forces with local emergency services will really help us to combat the often hidden problem of hunger in our rural community," she added.