GP Davinder Jeet Bains jailed for filming abuse of patients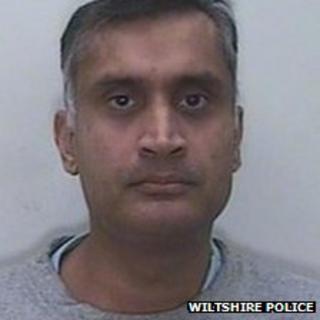 A family doctor who used a secret camera inside his wristwatch to record himself abusing female patients at his surgery has been jailed for 12 years.
Davinder Jeet Bains previously admitted 39 sex offences at Swindon Crown Court.
The 45-year-old, who worked as a GP at a medical practice in Royal Wootton Bassett, filmed the attacks using a spy watch.
Detectives investigating likened the timepiece to something out of a James Bond movie.
Passing sentence, Judge Douglas Field told Bains he had breached the trust patients put in their doctor "in the most grievous way".
'Position of trust'
"You are a disgrace to the medical profession," he added.
"You of all people will be aware that the relationship between a doctor and his patient is of fundamental importance in the practice of medicine.
"In this relationship the doctor is placed in a very high position of trust and the patient is entitled to expect the doctor to discharge that duty with the highest standard.
"This is particularly so when a female patient consults a male doctor on intimate matters."
The judge said police found a large number of video clips of women and girls aged 14 to 51 during "intimate examinations" dating from 2009 to 2012.
The court heard a large number of the victims, when questioned by police, said they had felt "violated" at the time by Bains' actions.
Two of his patients had also complained about his behaviour before he was arrested.
Bains' barrister Rex Tedd QC said of his client's victims: "They had no obvious means of becoming sure that this [behaviour] went beyond what was expected in a doctor's surgery and had no obvious channel of complaint."
In mitigation, Mr Tedd said Bains wanted to express "regret" at his actions.
"It was confined to a period in his life when his marriage collapsed because of his sexual inadequacy and he was self-medicating inappropriately," he said.
360 video clips
The doctor's activities were uncovered after a complaint from a woman who thought she had been filmed.
Police raided the Tinkers Lane Surgery, where they found the wristwatch. They later found more than 360 video clips.
At an earlier hearing in March, Bains of Nyland Road, Swindon, admitted various sexual assault and voyeurism charges and asked for 65 further offences to be taken into account.
Bains has been added to the sex offenders register for an indefinite period and has been banned from owning digital recording equipment or entering Royal Wootton Bassett.
Bains, who qualified as a doctor in 1993, previously worked at Swindon's Great Western Hospital.
He is suspended from practising by the General Medical Council.
Dr Liz Mears, from the NHS, said there would be an independent report and "the findings will be made public in due course".