Secret video GP Davinder Jeet Bains 'ruined patient trust in doctors'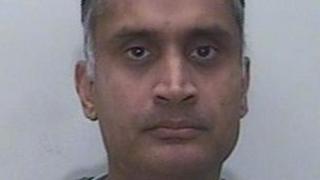 A GP who secretly filmed women using a hidden camera in a wrist watch has ruined his patients' right to put their trust in a doctor, one of his victims has said.
Davinder Jeet Bains was jailed for 12 years after pleading guilty to 39 sexual offences against victims, aged between 14 and 51.
The majority of offences took place at Tinkers Lane Surgery in Royal Wootton Bassett near Swindon.
One of his victims, who wants to remain anonymous, said she had been seeing Bains for about three years, because of gynaecological problems, before his arrest.
"Having to go back [to the surgery] for gynaecological issues, and knowing that you've got to be seen, the anxiety, that feeling of panic knowing that you're going to have to go through it, is emotionally distressing," she said.
"It's draining and it's always going to be in the back of my mind.
"I think once you've been a victim in a case like this there's always going to be a question in the back of your mind, 'Is this another bad apple in the mix?'."
No female GP
The woman said she had been unaware she was a victim until a few months after the police investigation into Bains began.
"I had heard snippets of information that things had gone on and that there had been a police raid made at the surgery and somebody had mentioned it was Bains," she said.
"I phoned the surgery just to make an appointment to see Bains and they read a statement to me just saying that he was under investigation for voyeurism and sexual assault, and they would be sending out a letter to the patients.
"I just assumed that I wasn't one of his cases, but about two-and-a-half months later there was a knock on my front door.
"It was two female police officers and they asked me to identify some footage, some still pictures of myself, to see whether it was me."
She said that at that point she went into shock.
"I couldn't understand why a doctor would put their career at risk for such a silly act and for video clippage of female parts," she said.
"Not once during those three years, and not until I was questioned, would I have thought anything was for his own gain.
"It leaves you feeling just really silly because how much of that was for medical necessity compared to his own gain?
"I've lost all trust in GPs in general."
The woman said she had raised some concerns with the surgery since the investigation as it did not have a female GP and she was still expected to attend appointments in the room Bains had used.
Chaperone policy
"For me as a patient, having to go back into that room just causes the most unnecessary stress and anxiety," she said.
"The room still looks the same even though the wall coverings have changed and the units on the wall [have changed], and I think for female victims really it would be nice to have a completely different room to go into."
She added: "I honestly believe that female patients with anything to do with gynaecological [problems] or perhaps anything to do with breasts, they should be asked 'Would you like a nurse to attend?'.
"Just having somebody else there, it's amazing how much you feel more relaxed almost straight away."
The surgery does now have a chaperone policy, although the woman said chaperones need to be asked for rather than being offered.
'Fantastic doctor'
She said she could never have "dreamed it up" that a doctor would use a camera hidden in a wristwatch to film her.
The case however, was "a waste of what was an absolutely fantastic doctor", she believes.
"I would always have chosen to go and see him," she said.
"He was always friendly, he was personable, he was always jovial, he always cracked a few jokes.
"Afterwards you wonder whether some of those were inappropriate. At the time you would never have known that.
"He's a sick and very messed up individual.
"He's violated so many women in such horrific ways that he's ruined people's human right to go and see doctors and put trust in them and I just hope that at some point he feels remorse."