Mike Porter cow crush death: Family 'devastated'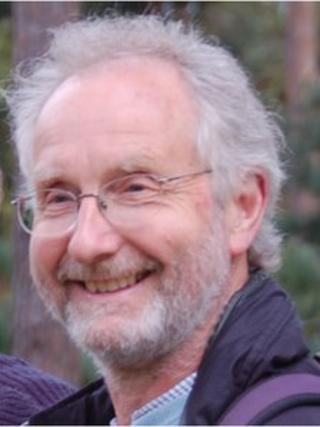 The family of a man trampled to death by a herd of cows in a "freak accident" have said they are "shocked and devastated".
Alistair Porter, known as Mike, was walking dogs with his brother near Bradford-on-Avon in Wiltshire when they were crushed by the animals.
The 65-year-old father-of-two, a former lecturer at Edinburgh University, was pronounced dead at the scene.
His brother remains in a stable condition in hospital, police said.
'Roamed Scotland'
Mr Porter's family said: "We are in shock and devastated by the loss of our lovely Mike.
"Mike was killed on Monday in a freak accident when walking with his brother in Wiltshire.
"He leaves Adrienne and two sons and a very large group of friends who are devastated by the loss of such a lovely and caring person."
They added that they were "still concerned" about the health of Mr Porter's brother.
Mr Porter, who was born in Surrey, worked as a lecturer at Edinburgh University at the Faculty of Medicine until his retirement in 2011.
He published work and researched in many areas of medical practice and medical sociology.
His former colleague Prof David Weller, from the university, said: "Those of us who worked with Mike are devastated to hear of his tragic and untimely death.
"In a career spanning more than four decades, Mike taught Edinburgh medical students important principles of care and compassion, encouraging them to see their patients in the context of their family and society."
His family described him as "very fit and active, a keen off-road cyclist and a walker who had roamed Scotland".
"In February he completed a four day 'tramp' in the New Zealand bush with his brother-in-law," his family added.
Emergency services were called to a field in Turleigh at about 12:30 BST on Monday.
A police spokesman said the injured man was being treated for a punctured lung and broken ribs.
The death has been referred to the Wiltshire coroner.