Princess Anne opens Swindon brain injury hospital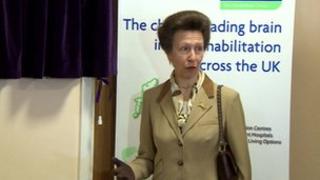 Princess Anne has opened a £3.5m 20-bed hospital for people with brain injuries in Swindon.
Chalkdown House is run by the Brain Injury Rehabilitation Trust (BIRT) with referrals from the NHS.
The princess met the charity's vice-patron, Gabby Logan, whose brother died from cardiomyopathy.
She also met staff and patients who are undergoing treatment and rehabilitation at the hospital.
Susan Munroe, director of BIRT, said: "This much needed independent hospital will be a great asset to people living in the south west with brain injuries.
"And will ensure that the full range of rehabilitation and support services is available to those who need it."