Swindon stab death: Roger Millar 'stabbed five times'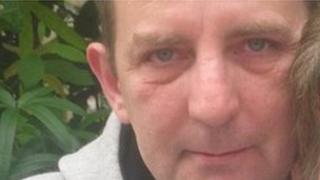 A man was stabbed in the back as he tried to escape from a group of drug dealers, a court has heard.
Charles Roger Millar, 44, of East Street, Swindon, was stabbed five times - with one wound proving fatal - on June 6.
Bristol Crown Court earlier heard the drug dealers were seeking revenge for being robbed.
Mr Millar died at Great Western Hospital. One man has pleaded guilty to murder, four other men deny the charge.
Known by his middle name, Roger, Mr Millar had gone out with friends to buy drugs, but the prosecution say he was killed after one of Mr Millar's friends stole the dealer's bike.
Severe internal bleeding
The court heard 19-year-old Shelton Sibanda gathered his gang - Zacharious Clayton, 19, Kendel Joseph, 19, Eurico Tavares, 18, and Christopher Simmonds, 28 - and went looking for revenge.
It is alleged they found Mr Millar in Manton Street and he was attacked with a large hunting knife at about 01:30 BST.
Home Office pathologist Dr Hugh White, told the jury that Mr Millar died as a result of a stab wound through the back of the chest into the left lung which caused severe internal bleeding.
Although he had been stabbed five times, only the chest wound proved fatal, Mr White said.
The jury heard that a post mortem examination showed Mr Millar had been taking heroin before he died.
At the beginning of the trial Sibanda, of no fixed abode, pleaded guilty to a charge of murder. He will be sentenced at the end of the trial.
Mr Clayton, of Dean Street; Mr Joseph, of Pioneer Road; Mr Tavares, of Burbage Road, all Swindon; and Simmonds, of Mundania Road, London, each deny a single charge of murder.
Simmonds has pleaded guilty to perverting the course of justice by persuading his former girlfriend to give a false account to the police about the night of Mr Millar's death.