Cleared officer Sgt Mark Andrews back at work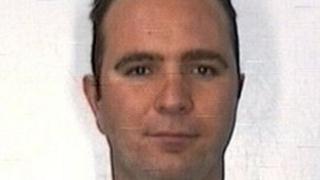 A police officer from Wiltshire, who was sacked and sent to prison is back at work after a lengthy legal battle.
Sgt Mark Andrews was accused of dragging a woman into a cell but his conviction for assault was quashed on appeal and the High Court ordered Wiltshire Police to re-employ him.
Police said, at his request, his new role had limited public contact.
The force spokesman confirmed Sgt Andrews had received back and holiday pay owing to him.
'Frank exchange'
Speaking through his solicitor, David Melville Walker, Sgt Andrews said he was pleased to be back at work.
"We feel that the Wiltshire Constabulary has let the side down fairly substantially at a substantial cost to the public.
"Having said that - that was in the past and we're looking to the future
"After a frank exchange of views with the current chief constable (Patrick Geenty) my client was determined to get back to his former position and has succeeded remarkably well.
"At the local level he is getting a lot of support and encouragement," he added.
Wiltshire Police said it did not want to comment but confirmed Sgt Andrews was working at Melksham police station in the local crime team.
The incident at Melksham police station in July 2008 was caught on camera and Sgt Andrews was convicted of actual bodily harm.
He was sentenced to six months' imprisonment but bailed six days later pending an appeal.
In November 2010 his conviction was quashed, but a month later he was dismissed by the force following a disciplinary panel.
In December 2011 Sgt Andrews won his job back and the force was ordered to reimburse him for lost earnings.
A year later the force took an appeal against the reinstatement to a judicial review but this was rejected last November and the judge said Sgt Andrews should get his job back.