Military postcards sold at auction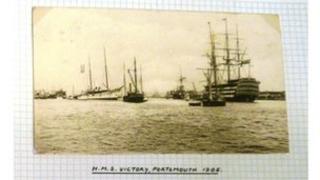 A collection of rare postcards from the early 1900s have been auctioned.
Over 100 postcards with a military theme or depicting scenes and images from WW I were sold at The Chippenham Auction Rooms.
Auctioneer Richard Edmonds said the collection, including items dating back as far as 1905, was "very popular", with one album fetching £1,200.
Other items up for sale included advertising ephemera.
'Unusual items'
Mr Edmonds said: "Some of the postcards did extremely well.
"We had one lot which made £240, but we also had another album that made £1,200, so from the same collection they came to a total of a couple of thousand pounds.
"The postcards were very unusual and there were some very rare cards that we have not come across before."
Mr Edmonds said that the collection came to them via a valuation day at Lockstones estate agents in Malmesbury.
"Some of them are from as far back as 1905, for instance the one showing the HMS Victory docked in Portsmouth," he added.
The auction also included several Fry's chocolate enamel signs, two railway signs, both from the Fry's era, and a sign from Bristol cigarette manufacturer WH Mills depicting the Bristol docks.