Secret watch video GP victim feels 'humiliated'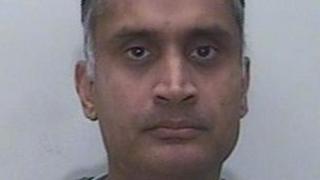 A victim of a GP who secretly filmed patients using a hidden camera in a wrist watch said she felt "violated and humiliated" by his actions.
Davinderjit Bains, 45, pleaded guilty in March to 39 sexual offences against 39 victims aged between 14 and 51.
The majority of offences took place at Tinkers Lane Surgery in Royal Wootton Bassett near Swindon.
"It made me feel sick knowing that he made the video when I was so vulnerable," the anonymous victim said.
Bains, of Nyland Road, Swindon, was remanded in custody by Swindon Crown Court for sentencing following his March hearing.
He was arrested after a woman complained to police after she thought she had been covertly filmed in the shower.
'Degrading way'
A further 47 counts of voyeurism and 18 alleged sexual assaults will also be taken into account in the case.
His not guilty pleas to three charges of sexual assault and a single count of administering a noxious drug with intent to commit a sexual offence were accepted and will lie on file.
Police said the two watches contained footage of "inappropriate or unnecessary" examinations of more than 100 woman by Bains.
The victim, aged in her early 30s said when police spoke to her about Bains' actions she "couldn't stop crying".
"I can't express the relief I feel now that he had pleaded guilty and I am glad for the other women that were sexually abused by Dr Bains, as well as being filmed, that he will never be able to hurt any other patients," he said.
"However, this has had a huge impact on my life and I am struggling to move on.
"I now have problems with trusting people and remain very angry at being put in that situation completely oblivious to what was actually going on."
Lawyer Luke Daniels, of solicitors Irwin Mitchell, who is acting on behalf of concerned patients, said Bains had "massively abused" his patients' trust.
"My client was vulnerable and put her trust in Dr Bains but he abused this in the most degrading way possible as part of his sick catalogue of crimes," he said.