Cold weather hits Devizes to Westminster endurance race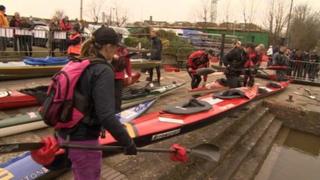 Nearly one third of the competitors in the Devizes to Westminster Canoe Race have pulled out because of low overnight temperatures.
Race organisers said 161 crews had entered for the non-stop 125 miles (201km) endurance event.
"Twelve decided not to enter because of the conditions, with 49 retiring - a phenomenal number," a spokesman said.
First past the post were Daniel Seaford from Reading Canoe Club and Stuart West from Worcester Canoe Club.
'Coldest on record'
They completed the race in a provisional time of 16 hours, 44 minutes and 23 seconds.
Richmond duo Richard Hendron and James King, who had won the senior doubles race for the past three years, came in second.
The winners arrived at Westminster Bridge early on Sunday.
BBC weather presenter Emily Wood said the Easter period had been one of the coldest on record.
"Temperatures in Wiltshire would have dropped to -4C (25F) and possibly even lower in places overnight with very light winds," she said.
During last year's race Olympic rowing legend Sir Steve Redgrave pulled out after 87 miles (140km) due to tiredness.