NHS Wiltshire considers leaving helpline contract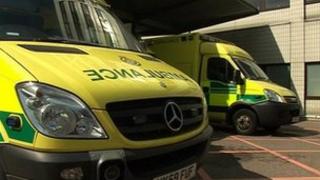 NHS Wiltshire is considering pulling out of a contract with the call centre that runs its out-of-hours GP helpline.
It follows dozens of ambulance crews being sent to deal with inappropriate cases such as earache and hiccups.
Private health firm Harmoni handles calls to the new 111 number from patients in Wiltshire, Bath, and North East Somerset.
NHS senior executives from the area are meeting with the firm to discuss how they can improve the service.
A spokeswoman for NHS Wiltshire said discussions were expected to take place over the next few days and they are considering all options - including pulling out of the 111 contract.
Increase in calls
Harmoni, owned by Care UK, has said ambulance callout rates are no higher than in other parts of the country and as the service beds in it expects the number of calls to the ambulance service to fall.
The new non-emergency number combines the old NHS Direct service with doctors' surgeries' own out-of-hours arrangements.
But there are concerns that Harmoni's call handlers are not medically trained and there are not enough doctors to cover the area at busy times.
Ambulance unions say patients are therefore often being advised to dial 999 instead and in some cases Harmoni call-handlers are sending ambulances themselves.
Unison spokesman Simon Newell said there was a 40% rise in emergency calls in the first weekend that the new system was introduced.
'Reduce over time'
South Western Ambulance Service added that while they had seen a rise in callouts the unseasonal cold temperatures also added to the increased workload.
A spokesman said: "We are continuing to receive calls from the 111 service where it transpires that an ambulance response was not what the patient needed or expected.
"However, there have also been many instances where it was absolutely appropriate for an ambulance to respond to a 111 call as a medical emergency."
In a statement Harmoni said the launch of the new number had created some areas where they had yet to achieve the high levels of service they will meet over time and they were working to address these issues.
"This change in method has led to an initial increase in calls to the ambulance service," the company said.
"As the new services are bedded in nationally, we expect the number of calls to the ambulance service to reduce over time."