Soldiers from 9 Theatre Logistic Regiment march through Chippenham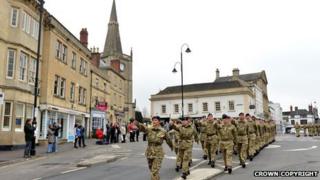 Nearly 200 soldiers have taken part in a thanksgiving church service in Wiltshire ahead of exercising their right to march through Chippenham.
Many members of 9 Theatre Logistic Regiment are soon to be sent to Afghanistan where they will help provide British troops with supplies.
The march, which started at noon took in Causeway, Market Place, High Street and The Bridge.
The regiment was awarded the Freedom of Chippenham in January 2012.
The march was led by regiment commander Lt Col Suzi Donoghue.
"It was fantastic to see people from the town, the school children, local businesses and everyone coming out to give us a good send off," Lt Col Donoghue said.
"They are supporting our families back here as well as us and knowing they have the support of Chippenham is truly heartfelt by the whole regiment," she added.
Most of those deploying from the regiment's Buckley Barracks base will be stationed at Camp Bastion in Helmand Province.
Others will operate from Kandahar, Kabul and a number of other bases within Helmand Province.