Iron Duke set for return to Bradford on Avon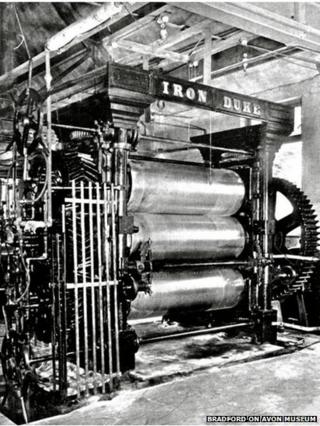 Campaigners hoping to return a 165-year old rubber pressing machine to its home in Bradford on Avon have successfully applied for planning permission.
In its hey day the machine, called the Iron Duke, after the Duke of Wellington, was at the centre of the town's economy.
Bradford on Avon's Museum Society and Preservation Trust is working to bring it back from storage in Bristol.
A site has been agreed for the machine at the northern end of Kingston Road.
"We want to put it where people can come and see it as part of their heritage," said David Moss, who chairs the trust.
The Iron Duke was the first machine in the UK used to roll sheet rubber and cotton together and vulcanise them to make waterproof fabric.
"It's an important part of Bradford on Avon's history and there's been a lot of enthusiasm for it to come back," said Mervyn Harris, who chairs Bradford on Avon Museum Society.
"It was the first element enabling Stephen Moulton to start the rubber works in 1848 and made Bradford the cradle of the rubber industry in the UK," said Mr Harris.
It has been stored in the Industrial Museum in Bristol, in pieces, since 1973.
"We've been and looked at it and it appears to be in good condition so once we've got formal agreement with the owners - we have agreement in principle - then we can get the foundation designed and go off and get fundraising to see the project through," said Mr Moss.
The project is estimated to cost about £50,000.
Once it is reassembled the Iron Duke will stand about 12ft (3.6m) high and weigh about 16 tonnes.