'Sex predator' doctor used watch camera to film examinations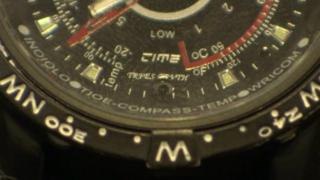 A doctor convicted of sexually assaulting patients used a camera hidden in a watch to film some of the incidents.
Det Insp Mark Garrett, who led the investigation, said the device was like something out of "a James Bond film".
It was one of two watches seized from Royal Wootton Bassett GP Davinderjit Bains which featured recording devices he used to film women for his own sexual gratification.
Bains, 45, from Swindon, pleaded guilty at Swindon Crown Court to 39 sex offences.
Det Insp Garrett said the investigation into Bains began in June after a 19-year-old woman complained that he had sexually assaulted her.
The woman had also alleged that she thought the doctor had used a watch to film her while she took a shower.
She spoke to the police and this led to Bains' arrest.
"It's a very brave decision to arrest a GP at his surgery during practice hours. That's a very unusual step to take," Det Insp Garrett said.
"But I wanted that watch. I wanted to ensure that he wasn't tipped off he had been caught. I needed that element of surprise."
When Bains was arrested he was wearing a black watch that contained a covert recording device.
"At that point the investigation escalated beyond all imagination," the detective said.
"The watch was seized from him while he was being booked into custody and there was an absolute appearance of deflation from him. He knew his time had ended and he had been caught."
A total of 361 video clips of "very good quality" were recovered from the device. About half were voyeurism in public places, the rest were of intimate medical examinations at his surgery.
Det Insp Garrett said: "Data recovered from this watch revealed that over a three-year period he had been secretly recording intimate examinations of his female patients and then downloading those images onto his home computer.
"The ages of the female patients ranged from 14 to 51 years.
"Then of course we had the challenge of identifying and locating a large number of women and explaining to them that their examinations had been secretly recorded by Bains for the purpose of his sexual gratification.
"It was horrendous. They were unaware that they were victims and this dated back over a three-year period."
He said: "An independent medical expert was recruited for this investigation, who provided the evidence required to prove that some of those examinations were inappropriate and also unnecessary."
Dr Stephen Rowlands from Wiltshire NHS said he would look for ways to stop the same thing happening again.
"We conducted our own investigation to see what, if any, lessons can be learned from this," he said.
"And we are determined to ensure any safeguards are shared with the wider NHS to further protect other patients in future."