Plans for 180 homes near Swindon's Abbey Stadium on display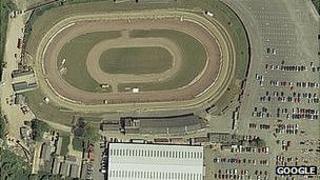 Plans to build more than 180 homes near a speedway track in Swindon have been put forward.
Persimmon Homes wants to build 184 two, three and four bedroom houses near the Abbey Stadium on Salzgitter Drive.
In 2011 the borough council gave outline planning permission to demolish the existing speedway track and build a new stadium, along with 450 residential properties and a care home.
An exhibition is being held at the Abbey Stadium until 20:00 GMT.
Steve Roche, from Persimmon Homes, said the stadium had "been identified as an appropriate location for future development" and he did not think noise from speedway meetings would be an issue.
"The events happen on a once a week basis, the planning consent for the stadium I'm sure will take into consideration those requirements," he said.