Former MPs backs cancer awareness drive for BME women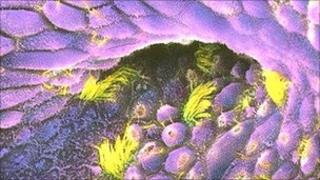 Efforts to raise better awareness of ovarian cancer among black and minority ethnic communities have been backed by a former MP who has had cancer herself.
Former Swindon South MP Anne Snelgrove, who has had cervical cancer, was at an event for Punjabi women in Swindon.
She said: "This is brilliant that we are getting the message across to all communities in Swindon about the symptoms to look out for."
The ex-Labour MP has had cancer twice and her mother died of ovarian cancer.
The event took place at the Broadgreen Community Centre and was organised by the Punjabi Event Club Swindon.
Organiser Mina Bhopal said: "Some of the women can't identify bloating as anything - it's just educating them to look after themselves and also the women don't want to go forward for check-ups."
More than 6,500 women in the UK are diagnosed with ovarian cancer each year, according to Cancer Research UK.
The charity said the symptoms of ovarian cancer can be very vague, particularly when the disease is in its early stages.