Restoration plan for derelict flight of locks in Wiltshire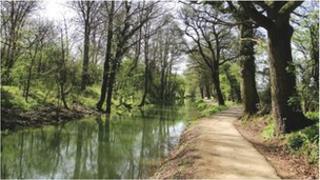 Plans to restore a derelict flight of locks on the Wilts and Berks Canal have been submitted to the council.
The Pewsham Locks, near Chippenham, once raised the canal by 7m (25ft) but fell into disrepair when the canal was abandoned nearly a century ago.
Volunteers have already spent years clearing a significant stretch of the waterway between Chippenham and Lacock.
The Wilts and Berks Canal Trust said it was "the most ambitious phase yet" but it is hoping for community support.
The three locks at Pewsham were part of a repair and maintenance depot.
But, according to the trust, the locks were "subject to some World War II military explosive practice" and although still "plainly visible" two of the chambers were "severely damaged."
'Much more potential'
Alongside the lock restoration, the organisation is also hoping to create a visitor centre and cafe on the site of the former lock keeper's cottage.
Colin Fletcher, from the trust, said: "The Pewsham stretch already attracts lots of people but we believe there is so much more potential - particularly once the link to the Kennet and Avon Canal near Melksham is restored.
"A visitor centre and outdoor classroom would be a big boost to tourism and raise awareness of an important part of our local heritage. It would also help to open up the countryside."
Despite the anticipated cost, the Wilts and Berks Canal Trust is hoping for Heritage Lottery Funding to reconnect the lock to the stretch of canal already dredged and re-watered to the south.
But the ultimate aim of the trust is to restore the waterway from the Kennet and Avon Canal near Melksham to the Thames and Severn Canal near Cricklade and the River Thames near Abingdon.
The consultation period is due to end on 28 March.