Truck fleet in Swindon running on household waste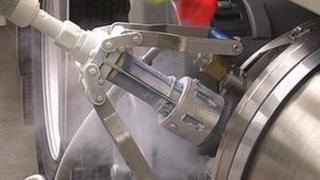 Rotting household material is being used to fuel a fleet of lorries at a distribution centre in Swindon.
The B&Q depot, in South Marston, is running 50 dual fuel lorries on biomethane gas from composted waste.
The natural waste gas is produced at a landfill site in Surrey and purified for use as fuel.
Matt Saxton, a company director, said: "It is cheaper overall to run these trucks but also it delivers a big environmental benefit."
The alternative fuel, made up of liquid biomethane and liquefied natural gas, is designed to reduce carbon emissions.
The cost of converting a lorry is around £25,000 but with the cheaper eco-fuel, the investment could be recouped within two to three years.
"We're currently running 50 trucks," said Mr Sexton.
"And provided this trial goes well we see no reason why we wouldn't roll this out to the rest of our fleet."
Planning permission for a biomethane gas filling station at the Swindon site has also been granted by Swindon Borough Council.