Quinton Barham's coach want first aid lessons in schools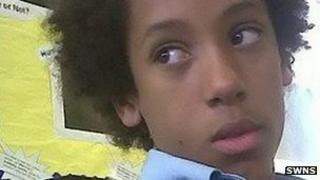 The coach of a teenage footballer from Wiltshire who suffered a cardiac arrest during a match wants all children to be taught life-saving first aid.
Quinton Barham, 13, from Trowbridge, was playing for Bradford Town YFC earlier this month when he came off the pitch feeling dizzy, and collapsed.
He was taken to hospital in Bristol where he was treated before undergoing heart bypass surgery.
The club has since acquired a defibrillator for its ground.
Peter Bates, one of the club's coaches, said Quinton's life was saved because a parent knew CPR and the club they were playing, in Bromham, had a defibrillator.
"I think maybe this should be perhaps taken as a good practise story," he added.
'Be a bonus'
"[It should be] advertised what happened and how it happened. The reason that Quinny is probably alive now is that so many of these things were in place.
"If we can make sure that's the same in every game, every club, then that will be a bonus."
Bob Maitland, of Melksham, who runs Immediate Response Training Services, has promised to help the team with its new equipment free of charge.
He said: "It's one of those things that you don't really know how important it is until it happens."
Mr Bates's call comes days after the launch of a British Red Cross campaign to promote the inclusion of first aid education in schools.
The teenager is still recovering in hospital.