Wiltshire's multi-million pound elephant sanctuary plan revealed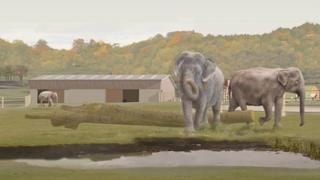 A planning application has been submitted to build a multi-million pound elephant sanctuary in Wiltshire.
The 2.4 acre (1 hectare) enclosure at Longleat Safari Park is planned to house four elephants, including a rescued former circus elephant.
The facility will include a heated elephant house and an outdoor space with sand pits and an 'elephant spa'.
Anne the elephant was moved to the park in April after secretly filmed footage showed her being abused by her groom.
Last circus elephant
The 58-year-old Asian elephant has been in the care of Longleat since the circus animal's former owners were found guilty of causing unnecessary suffering to an elephant.
Since then more than £335,000 has been raised to create a permanent home for Anne, Britain's last circus elephant, and other rescue elephants.
Longleat chief executive David Bradley said he had been overwhelmed with the generosity and support of the public whose donations will "help part-fund the development".
"It has been an incredibly complex and highly-detailed process," he said.
"But we are confident the proposals we have submitted will deliver an elephant rescue and rehabilitation facility which will utilise cutting edge knowledge to provide for the specialist needs of the elephants."
The planned development will include a 994 sq m (10, 699 sq ft) heated elephant house with sand floors, automated feeding systems and a specialist treatment area.
An outdoor space will also offer "rescue elephants" a large grassy paddock, rocks, log piles, a giant browse frame, sand pits and an "elephant spa".
'Help rescued elephants'
Jonathan Cracknell, head of animal operations at the safari park, believes there are currently 55 circus elephants across Europe.
"The over-riding ambition is to provide the best habitat possible to encourage natural behaviours both indoors and outdoors," he said.
"And although we cannot take in every elephant, we aim to lead by example and provide a facility to help rescued elephants which can be replicated elsewhere."
It is hoped that, once approved, work will begin on the sanctuary later in the year with a proposed completion date in 2014.