Plan to stop sale of Sir Edward Heath's Salisbury home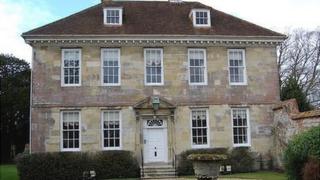 A new plan to keep the Wiltshire home of Sir Edward Heath open to the public has been put forward by the former prime minister's political assistant.
In October, the foundation which owns Arundells in Salisbury reapplied to the Charity Commission to sell the property due to "disappointing" visitor numbers.
Trustees had applied to sell it in 2010 but the commission blocked the sale.
Friends of Arundells said Peter Batey's plan could turn "deficit to surplus in a relatively short period of time".
The historic house in Cathedral Close, where Sir Edward lived for the last 20 years of his life, was left to the nation and opened to the public in 2008.
Since then it has attracted more than 45,000 visitors but, despite these numbers, trustees of the Sir Edward Heath Charitable Foundation say it is not financially viable.
At the end of October, after a reported loss of £97,000 in just eight months, the foundation announced it was applying to the Charity Commission again to put the house and its contents on the market.
'Serious business plan'
Now, Mr Batey, a China-based business consultant, has stepped in with an offer to cover the "operating deficit of Arundells" while a "serious business plan is prepared and a major fund-raising campaign launched".
Mr Batey, who worked as the parliamentary private secretary to Sir Edward Heath in the 1980s, remained in close contact with him after working and travelling with him on international visits, according to the Friends of Arundells.
Mr Batey said: "I am delighted that the trustees are now looking actively at my proposals.
"With goodwill on all sides, I am confident that we will be able to turn around the finances of Arundells and put the property on a secure long-term footing.
"Arundells is a remarkable place and it is important that it is not simply closed and sold off to some Russian oligarch."
The trustees are now considering the business and fund-raising plan and are due to give their views to the Charity Commission "relatively soon", a commission spokeswoman said.