Earl of Cardigan not guilty of assault charge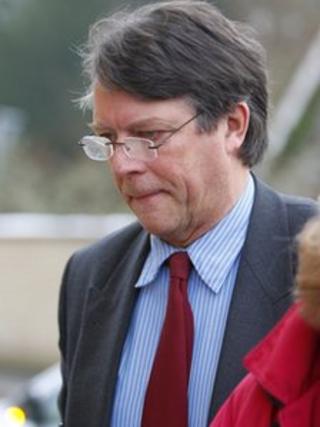 The Earl of Cardigan has been cleared of attacking an estate trustee on the family's Savernake Estate in Wiltshire.
David Brudenell-Bruce, 60, had been accused of assaulting John Moore by beating last year after losing a legal row over ancestral paintings.
The earl was also found not guilty of a charge of criminal damage.
Leaving Salisbury Magistrates Court, Lord Cardigan said: "I am delighted and relieved. I wasn't looking for trouble on either incidents."
He added: "On both occasions this happened on my own property and they came to me."
'Man possessed'
The assault was alleged to have taken place a week after the earl lost a High Court battle with trustees of the family estate to stop portraits of his ancestors being sold to raise funds.
During the hearing, trustee Mr Moore told the court Lord Cardigan "looked like a man possessed" as he was verbally attacked and spat at by the earl.
Mr Moore said: "I think he just loses control and I think that is what happened - he lost control."
Mike Pulsford, defending, suggested to Mr Moore he started the conversation with the earl, accusing him of "destroying the estate" and goading him further.
"You were persistent in trying to rile David, you were being totally offensive from the beginning," Mr Pulsford told Mr Moore.
Lord Cardigan told the magistrates: "We were just slinging insults at each other.
"We mutually blamed each other for the sad state my family estate has been reduced to.
"We flung all sorts of insults at each other - childish stuff. We were shouting rude things at each other."
The earl denied using a bamboo cane to hit Mr Moore and also denied spitting at him.
'Acrimonious relationship'
Salisbury Magistrates' Court was also told of a separate incident in May last year when the earl was alleged to have thrown gravel at a pick-up truck being driven by estate foreman Leslie Kyle.
Lord Cardigan told the hearing that Mr Kyle had reversed onto his lawn and he had thrown some gravel at the vehicle after shouts to the driver to get off the lawn had failed.
Mr Kyle insisted he had not driven on the grass and said the gravel caused several chips, a dent and scratches to his vehicle's passenger door.
The earl was acquitted of this charge as well.
Chair of the Bench, Dr Pauline Tremlett, said there was "no doubt there is a long-standing acrimonious relationship here" but the Crown had not proved its case beyond reasonable doubt on either count.
Lord Cardigan lives at Savernake Lodge which is part of the 4,500-acre Savernake Estate, near Marlborough.