£50,000 Olympic legacy grants for Wiltshire grassroots sport clubs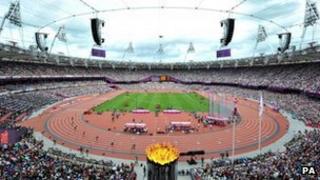 Five grassroots clubs in Wiltshire are to benefit from £50,000 of Olympic legacy funding from Sport England's Inspired Facilities Fund.
It is hoped the money will further the London 2012 spirit within sports clubs.
Highworth Recreation Centre and Bradford on Avon Rugby Club have both secured the money.
Goatacre Village Hall, Swindon Croquet Club and the Stratton Churchway Bowls Club will also use the money to upgrade facilities and equipment.
"We're spending it on new changing rooms," said Alan Gough, from the Stratton Churchway club.
"[Also] rewiring of our club, improved access to our green, improved fencing and security at the club house as well. So it's a really good day for the club."
Goatacre Village Hall will spend the money on better facilities for its cricket team.
"We have raised a lot of money over the years and we've done artificial wickets, we've had new nets, new covers and machinery," said John Wilkins, from the club.
"We've fallen behind the times with that so we're now sorting it out really," he added.
The funding is part of a £135m scheme to use lottery money to encourage more people to become involved in sport in the wake of the Olympic and Paralympic Games.