Wiltshire snow: More snow forecast for county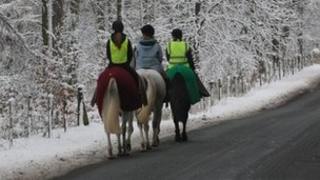 More snow is expected to fall in Wiltshire after the Met Office warned of up to 5cm of snow on Tuesday.
Gritting crews are continuing to salt the main roads and tackle the ice on many rural routes and side roads.
Wiltshire Council said more than 3,000 tonnes of salt had been spread over the past few days with its highways teams working around the clock.
Wiltshire Police warned motorists to take extra care on the roads due to widespread ice.
Despite gritting teams being out overnight, some of the county's roads remain icy.
Adrian Hampton, head of Wiltshire Council's gritting team, said: "We're mainly dealing with the pavements and the rural roads - and we're focusing our priorities on the high user areas.
"We always have problems with estate roads because we have to send smaller vehicles which affects our efficiency on the smaller estates."
'Coldest job'
The cold weather is not hampering a £55,000 project to repair leaking lock gates on the Kennet and Avon canal.
Divers began work on five of the 29 locks on the Caen Hill lock flight near Devizes two weeks ago.
Mark Trimeer, one of the divers, said: "I think this is probably one of the coldest jobs.
"But at the moment I'm not too bad - my fingers are a little bit cold but other than that I'm fine."
BBC Wiltshire is broadcasting weather and travel information throughout the day on 103.5, 103.6 ,104.3 and 104.9 FM.