Dyson applies to install fighter plane at Wiltshire HQ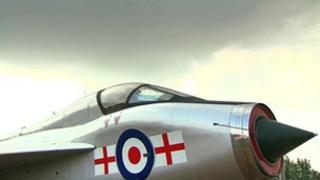 Manufacturer Dyson wants to install a warplane, mounted vertically, outside its Wiltshire headquarters.
The Malmesbury firm has applied to the council to install an English Electric Lightning XM173 in its car park.
According to the application, the aim is to "inspire positive creative spirit" amongst staff and visitors and promote "local distinctiveness".
Retrospective consent for a Harrier jump jet, already sited outside the company, is also being sought.
'Gate guardian'
The XM173 aircraft, according to the Royal Airforce website, was built in 1960 and was flown until 1973.
It served at RAF bases at Coltishall, Leuchars and Binbrook before becoming a "gate guardian" at RAF Bentley Priory in 1976.
The proposal is to mount the historic plane above ground, tail down and in a vertical position, with LED ropes highlighting the engines.
The consultation period is due to end on 11 February with a decision expected by 4 March.