Snow disruption warning across Wiltshire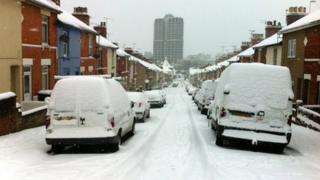 Businesses, leisure centres and schools have closed in Wiltshire as snowfall causes disruption to services and travel.
A band of snow continued to cause problems across the region on Friday.
More than 240 schools in the county were closed by mid-morning and the Oasis and Link leisure centres in Swindon closed in the afternoon.
The Swindon Designer Outlet has closed, and staff at Nationwide, Honda and Zurich in the town have been sent home.
An amber "be prepared" warning issued by the Met Office early on Friday said up to three inches (10cm) could fall during the day.
Buses suspended
In Lyneham, an ambulance became trapped in snow and a gritting lorry got stuck in Warminster.
Wiltshire Council's control room deployed local farmers to help in both instances.
All Thamesdown bus services were temporarily suspended on Friday morning but some services have since been restored. All will be suspended again at 22:00 GMT.
A spokesman said the situation would be kept under review and advised customers to check its website for any developments.
Stagecoach buses out of Swindon are also running a reduced service.
South West Trains said there would be no service between Salisbury and Bristol Temple Meads all day.
Railway operator First Great Western said services between London Paddington and south Wales had been affected.
Passengers are being advised to check before attempting to travel.
Wedding rescue
On the roads, Wiltshire Council said the gritters had been out twice on the main routes overnight.
Conditions have been described as "treacherous" in places.
Bill Parks, head of Wiltshire Council's winter response, said the situation was being monitored around the clock.
He said: "We do have concerns and problems on the A350, East Knoyle, where reports suggest HGVs are struggling to get up the hills and that doesn't help the situation with the gritters."
The authority said it had been informed by the Met Office that overnight road surface temperatures in Wiltshire would not get above freezing for the next four days.
Police in the county are also advising drivers to avoid any unnecessary journeys.
A couple from Swindon due to get married on Friday nearly had to cancel because the weather had made it impossible for them and their guests to travel to the ceremony.
An appeal on BBC Wiltshire saw two local 4x4 owners come forward to offer to drive Carly and Richard Smith from Penhill to the registry office in Swindon town centre.
Mrs Smith said: "It went really well, surprisingly well. All to plan and no tears and now we're Mr and Mrs Smith."
BBC Wiltshire will be broadcasting weather and travel information throughout the day on 103.5, 103.6 ,104.3 and 104.9 FM.
The enhanced content on this page requires Javascript and Flash Player 9
Map Key
Land
Cloud
Lakes, Rivers & Sea
Fog
Light
Heavy
Frost
Light
Heavy
Pressure Fronts
Cold
Warm
Occluded
Rain
Light
Heavy
Extreme
Snow
Light
Heavy
Temperature tab only
Temperature (°C)
More details from BBC Weather