Plans announced for 'large' solar farm in Wiltshire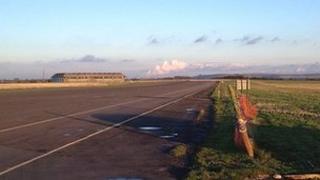 Plans to build one of the largest solar farms in the UK on an old airfield near Swindon, have been announced.
The proposed farm will comprise 160,000 solar panels and cover 200 acres of a former RAF site, now owned by The Science Museum at Wroughton.
Developers, Swindon Commercial Services (SCS), said it could create enough energy to power about 12,000 homes.
Plans will go on show at Ellendune Community Centre from 26 January.
SCS, a company owned by Swindon Borough Council, has teamed up with the Science Museum at Wroughton to develop the £50m project.
The museum took over the maintenance airfield in the 1970s and uses the site's hangars to store more than 16,000 large objects not currently on display in London.
'Unproductive land'
The proposed solar farm is expected to generate 38 gigawatt hours (GWh) of energy a year and is currently the largest being planned in the UK, according to James Owen from SCS.
"It will definitely be seen from parts of the Ridgeway - it is quite large and there is no way I can hide it," he said.
"But I hope people do embrace the fact that we're trying to generate a significant amount of renewable energy on land that is pretty unproductive."
The land is classified as both "light industrial" and agricultural and Mr Own wants to continue to use it for agricultural purposes.
'Rare sheep'
"One of the things I definitely want to do here is introduce Cotswold sheep - which are a rare breed now," he said.
"So I would want to definitely keep it for agricultural use for grazing purposes."
The project is currently in the pre-planning stage and due to undergo its first public consultation at the end of the month.
If successful, a planning application will be submitted in April and work could begin in September.