£45m Swindon to Kemble rail upgrade work begins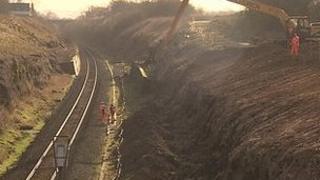 Work has begun on a £45m project to improve a section of railway line between Wiltshire and Gloucestershire.
Planned changes by Network Rail include reinstating a second line, which was shut in the 1960s, between Swindon and the Gloucestershire village of Kemble.
"[It] will increase network capability allowing the operation of four trains per hour along the line of route in each direction," a spokesperson said.
It is needed before the electrification of the Great Western Main Line (GWML).