Missing pub landlord Malcolm Levesconte's inquest opened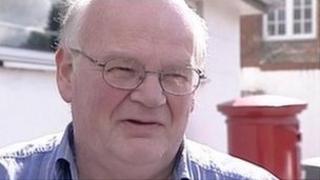 An inquest into the death of a pub landlord who disappeared after £29,000 went missing from a Christmas club has been opened and adjourned
The court heard Malcolm Levesconte's body was recovered from the sea, near Dover, on 24 December, and he was later identified from his fingerprints.
The 59-year-old from Shrewton, Wiltshire, was last seen boarding the Portsmouth to St Malo ferry.
A post-mortem examination revealed he had drowned.
'Failing business'
Rachel Redman, the coroner for central and south east Kent, directed that jurisdiction for a full inquest into his death be passed to a Wiltshire coroner.
Wiltshire Police have said they were working on the theory that Mr Levesconte had been propping up his failing pub business with money from the Christmas club savings fund.
His death is being treated as non-suspicious.
Mr Levesconte disappeared on 9 December from the Royal Oak Pub in Shrewton.
He took a ferry from Portsmouth to France but his arrival was never confirmed.
During the investigation officers became "increasingly concerned" for his safety amid fears he may have fallen overboard.
On Christmas Eve Kent Police reported a body had been found in the sea off the Dover coast.
A fund, set up to help the 60 people who lost money, saw the cash replaced in a week.
Donations were received from around the world and included an anonymous donation of £10,000 from a Shrewton villager.