Veteran George Tye's ashes: photograph issued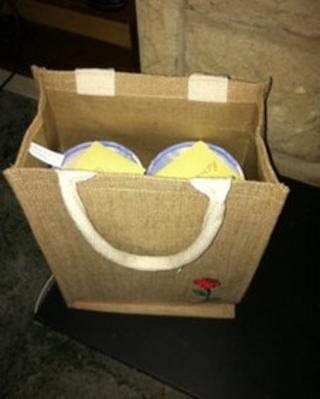 A photograph of a bag containing the stolen ashes of an 89-year-old naval veteran has been issued by police.
George Tye had lived in Sarum Avenue, Melksham, for about 20 years when he died in 2011.
His son Charles, who lives in the United States, was visiting his father's home to clear his belongings when the ashes were taken.
The ashes were being kept in cardboard tubes inside a hessian bag at the house prior to being scattered.
The burglary happened some time between 30 December and 3 January, police said.
The ashes were to be scattered in two locations - at Paisley, Renfrewshire, where the remains of his mother were laid to rest, and at sea, to honour Mr Tye's Royal Navy career.
A police spokesman said: "The hope is that someone will find the bag and the containers and call Wiltshire Police on 101 or that the burglars themselves will find a way of getting them to the police."