Wollemi Pine bears cones at Wiltshire College Lackham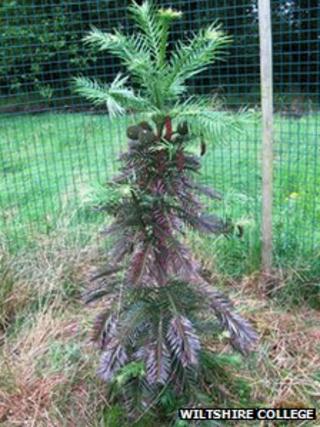 A Jurassic species of pine tree has started producing cones for the first time since it was brought to Wiltshire.
The Wollemi Pine was planted at Wiltshire College Lackham in 2008, and is believed to be among only 100 in the world.
The species was thought to have been extinct for two million years until it was discovered in Australia in 1994.
Carl Gill, from the college, said: "The conditions at Lackham obviously suit it very well."
Mr Gill, curriculum manager of land based studies, said: "We have not seen a specimen producing cones before.
'Grown considerably'
"It is a notable and interesting horticultural occurrence and, on a specimen so young, if the seeds are viable we may try and get some to germinate."
Grounds manager Stan Rawlings said: "The lower leaves are a lovely chocolatey colour as they age, a very open spikey-like leaf.
"You can see a very white tip to it which is very waxy. We think this is what might have helped it through some of the ice ages.
"We are really pleased with this one at the moment because it's grown considerably even though we've had a wet summer."
He said it had grown from just under 1m (3ft 3in) tall when it arrived to almost 2m (6ft 6in).
"It's nice to have a tree of interest, especially as a teaching establishment, for students to come and see trees that were developed before insects were about," Mr Rawlings added.