Purple hairstreak butterfly numbers hit by wet weather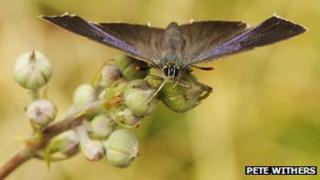 A species of butterfly has been decimated in Wiltshire because of severe wet weather, an expert has said.
Matthew Oates, from the National Trust, has been monitoring purple hairstreak butterfly eggs at Flisteridge Wood near Malmesbury for eight years.
In previous years he found between 79 and 32 - an average of 42 - at the ancient woodland site but this year he found none.
Mr Oates said he was "shocked" and had "anticipated 25 to 30 eggs" this year.
He said wet weather makes it harder for the adults to lay eggs, and also washes any larvae away before it can hatch.
"I can only put this collapse down to the impact of the bad [weather] in early July on the adults," he added.
"Young larvae are very vulnerable to wet. I did something similar in Hartley Wood, near Selborne in Hampshire, during the mid-70s to late 80s.
"I never drew a blank, though numbers fell from a massive 226 in 1976 to 12 in 1977."
'Always hope'
The rare purple hairstreak [Neozephyrus quercus] is commonly found high in the branches of oak trees throughout southern Britain.
Unlike most butterflies, it does not feed on flowers but gets its nourishment from honeydew.
Drought gripped swathes of England at the beginning of the year as the country basked in an unusually warm, dry March, but the sunshine gave way to the wettest summer for 100 years, hitting crops, tourism and wildlife.
Nationally Mr Oates said UK wildlife either "did spectacularly well or incredibly badly" during the unsettled weather over the past 12 months.
Slugs and seals prospered but bees, birds and mammals struggled, with bats particularly hard hit.
It was also a bad year for insects, with knock-on impacts for fruit and crops which they pollinate.
"There's a lot to recover from, but these powers of recovery can be immense," added Mr Oates.
"In nature there's always hope, and we need some good weather to realise that hope."