Missing pub landlord Malcolm Levesconte's body found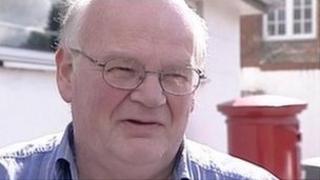 A body recovered from the English Channel on Christmas Eve is that of missing landlord Malcolm Levesconte.
Wiltshire Police were contacted by Kent Police after the body was discovered four miles from Dover on 24 December.
Mr Levesconte disappeared on 9 December from the Royal Oak Pub in Shrewton. He took a ferry from Portsmouth to France but his arrival was never confirmed.
Police were also linking his disappearance with the theft of £29,000 from the pub's Christmas club fund.
Detectives later revealed the 59-year-old had boarded a Portsmouth to St Malo ferry buying a return ticket.
'Non-suspicious'
During the investigation officers became "increasingly concerned" for his safety amid fears he may have fallen overboard.
On Christmas Eve Kent Police reported a body had been found in the sea off the Dover coast.
A Wiltshire Police spokeswoman said subsequent forensic tests confirmed the body was Mr Levesconte.
"His next of kin have been informed [and] the death is being treated as non-suspicious," she added.
A fund, set up to help the 60 people who lost money, saw the cash replaced in a week.
Donations were received from around the world including an anonymous donation of £10,000 from a Shrewton villager.