Salisbury Cathedral's governing body supports calls for women bishops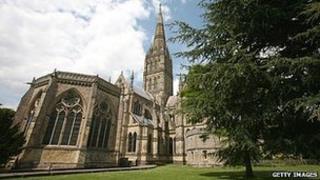 "Swift action" should be taken by the Church of England to allow women to become bishops, the diocese of Salisbury says.
The Very Rev June Osborne, one of the most senior woman priests in the Church of England, said they wanted people to have "no doubts" about Salisbury Cathedral's position on the issue.
Last month, the general synod rejected the appointment of women bishops.
The diocese said it was working with church leaders to help find a solution.
'Right and proper'
Dean Osborne said: "If you've got a minority group of people who hold views that you may not agree with at all, actually I think it is right and proper to give them space and respect for expressing those views.
"The difficulty comes if you take them too seriously and let them dominate the agenda."
She said it was also important to build in legislation to ensure women had full equality and access as male bishops have.
The statement, from the cathedral's governing body and the Bishop of Salisbury, also said: "Although this is a difficult time for the Church it is also a great opportunity to show it can recognise the importance of this moment and make swift progress which will enable it to minister appropriately to its members."
Bishops are due to meet in July to debate the proposals with the general synod, Dean Osborne said.
The diocese of Salisbury covers Wiltshire and large parts of Dorset.