Abandoned Imber church holds Christmas service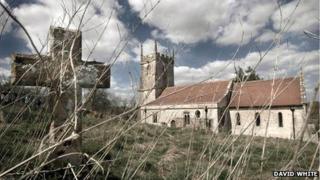 A Christmas carol service has been held in an abandoned Wiltshire village.
The Army took over Imber on Salisbury Plain during World War II to use the area for training. Residents had to move out and were never allowed back.
It has been used by the military ever since. They allow access to the village on a handful of occasions each year.
The service at St Giles Church took place at 14:30 GMT. The church bells will also ring on Christmas Day for the first time in more than 70 years.
The Ministry of Defence is allowing access on 25 December so bellringer Jenny Hancox can ring the church bells on her birthday.
In 1943, people living in Imber were told to leave so the Army could prepare for D-Day, and the village now resembles a ghost town.
The original church bells were taken out in 1950 but in 2010, a group of bellringers installed some new bells and select services have taken place ever since.