Wiltshire Council debates £2m lights switch-off plan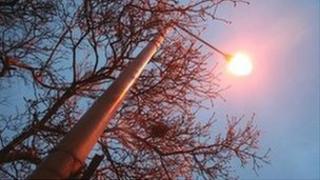 Plans to switch off about 20,000 street lights and install a £2m lighting management system is to be debated by Wiltshire Council.
The Tory-run council has said the switch off will save £380,000 a year against an annual bill of £1.2m.
Cabinet member Dick Tongue said: "We are always under budget pressure and this doesn't affect people in a bad way in terms of crime or road safety."
Last year 1,300 lights were switched off in 10 places around the county.
"They will not be switched off at key junctions, accident hotspots, dark alleyways, town centres, or where there are CCTV systems."
Other lights will be turned off between midnight and 05:30.
The new lighting system being considered is more flexible, the council has said.
Individual lights can be dimmed or switched off remotely rather than sending out a lighting engineer and can also be adjusted to British Summer Time (BST).
After switch-off trials were held last year, the council said there was no rise in anti-social behaviour or crime.