Church collection for Shrewton Christmas fund victims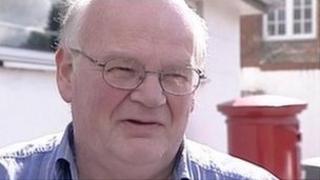 Churchgoers in a Wiltshire village have joined the fund-raising effort to help residents affected by the theft of a £29,000 Christmas savings fund.
Some 60 people in Shrewton lost money following the thrift fund theft at the Royal Oak pub last week.
St Mary's Church in the village held a retiring collection to help those who lost their Christmas savings.
Wiltshire Police want to speak to the pub's landlord, Malcolm Levesconte, 59, who has been missing since last Sunday.
The force said it was aware that Mr Levesconte had booked tickets and boarded a ferry at Portsmouth bound for St Malo in France.
A separate fund, set up on Thursday to help the victims, has so far raised more than £13,000.
Shrewton Parish Council held an emergency meeting last week when it was told of a number of fund-raising events being planned.